Chinese title:
Liang Shanbo & Zhu Yingtai
or
Liang Shan Bo and Zhu Ying Tai
.
This is another Huangmexi directed by Li Han Hsiang. When people heard this name, they may say, "Isn't he the director who made a few erotica in his day?" Not really. He directed A LOT of erotica or Fengyue genre films for SB in the mid 1960s thru to 1980s, and some were quite classy. He's thus the innovator of 2 unique Chinese cultural art forms in SB. Not to mentioned that through his many films, he had created more legends and award winning stars of its days than any directors in SB. These include Asian Movie Queen Linda Lin Dai, to the multi-awarded Ivy Ling Po, and last but not least, the screen legend Li Li-Hua.
This association is unfortunate because he directed many fine Huangmeixi in the 1950s thru to mid 1960s. Some of the best Huangmeixi were his handy works. In fact, he pioneered putting Huangmei opera in SB (or indeed in cinema). He also made quite a number of memorable period costume dramas as well. This movie is in fact considered by many the best Huangmeixi ever produced by SB. Huangmeixi declined from here in term of number made. By late 1960s, it was all over as the popularity of wuxia had superseded it.
Well, when Huangmeixi was fell out of favours, and its number dropped significantly, I guess SB studio handed him productions of skin flick to keep his talents occupied.
Betty Loh Ti and Ivy Ling Po
Most people called this story the Chinese Romeo and Juliet because of it's a tragedy about the star-crossed lovers. I think it's 2 stories rolled into 1. The 1st is
Yentl (1983)
and the 2nd is Romeo and Juliet.
Yentl is a Jewish girl who disguises herself as a boy to enter religious training. And Zhu Yingtai is a Chinese girl disguises herself as a boy to enter school.
Plots in Huangmeixi tends to be simpler so to have our focus on the singing rather than on the story. The singing are done by the actors as well as by background chorus to provide background info. The English subs I got is quite good. Most SB's English subs are quite good in general.
There's very light make-up as well, unlike the painted masks as seen on Beijing Opera. Everything is light-weight from costume, singing and make-up, which makes it easy to access. This is the idea as Huangmei was evolved for the poor rural folks in mind.
There's some interesting notes about gender bending. We have an actress who played a female (Zhu Yingtai) who disguises as a male. And then we also have another actress who played a male (Liang Shanbo) in this Huangmei Opera. While in Beijing Opera, both female and male roles were played by males (at least in the olden days).
I don't know if this tradition of actress playing a (male) scholar starting from this movie. But it's often a tradition of same sex performers playing dual sex in various forms of Chinese operas. This movie propelled Ivy Ling into stardom of cross gender artist. She had since played quite a number of male (scholar or not) parts since. The most notable ones are
Lady General Hua Mulan (1964), Grand Constitution (1965)
and
Three Smiles (1969)
. Regardless, she was the most celebrated cross-sex performer in SB. No, in HK. No, in the world (at least in terms of number of movies she played in).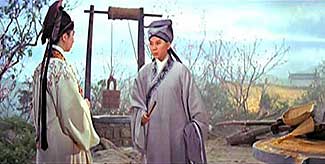 In
The Enchanting Ghost (1970)
, a fantasy flick produced by SB, the (male) scholar was also played by an actress other than Ivy Ling. I kept expecting that they would suddenly burst into Huangmei song, but they never did as SB had stopped making Huangmeixi by then.
Ivy Ling won an award for her acting in this movie. The only problem was - should she receive a Best Actor or Best Actress Award? They had to invent a "Best Acting Award in a Special Category" awards at the 2nd Golden Horse Film Festival in Taiwan, 1963 to get them out of that jam. She also walked away with the Best Actress award as well.
This tragedy play has a strong feminist stance. As strong as
Crouching Tiger Hidden Dragon
that was made some nearly 38 years later. And using actresses only to play roles of both genders reinforces that message. Because of this, it came as no surprise that this is the movie Ang Lee chose to watch for the preparation for the making of
Crouching Tiger
.
The image of students swirling their heads while studying the Confucian classics stayed with me for life since I watched it some 30 odds years ago. The debate between Liang and Zhu about female roles throughout history reinforces the feminist slant in this movie.
I also discovered that Ivy Ling could really know how to twirl her fan around her nimble fingers, keep your eyes peel for the evidence at 1:04:55 into the movie. The 1st 1.5 hours is delightful. The last 0.5 hour delivers the tragic end.
This is a milestone picture in gender bending, and feminist stance.
This film is included in my IMDB movie list.
Fun Facts
:
Jackie Chan played an (uncredited) extra in this film. See if you can spot him.